Absolutely ALL Pet Owners NEED This Best-Selling Pet Glove!
  Easily Removes Excess Hair - As seen on video! 
 One Size Fits All - Fixes with adjustable velcro wrist strap. It's also machine washable!
 Works Great on ALL Cat & Dog Breeds with short, medium, curly and long coat types.
Features 
Enhanced Five Finger Design: 

With 255 enhanced silicone grooming tips, TrueTouch™ mimics the touch of your own hand, providing your pet with a soft and relaxing massage. These flexible, slip-on grooming gloves allow you to brush away dirt, dander and loose hair from cats and dogs.
Hair Remover: 

Perfect for long, short and curly-haired dogs, cats and other pets. TrueTouch™ allows you to groom hair quickly, gently and effectively. The shedding hair sticks to the glove, making it easy to pee and throw away.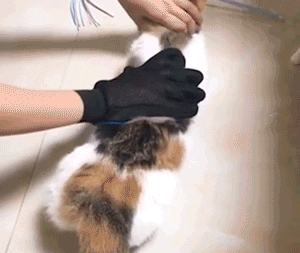 Bath Brush:

 Bathe the pets with this glove, which will clean the pet hair easily and give your pets a gentle massage without hurting their skin. The five finger design allows you to groom hard-to-reach places like their tails or face.
Eco-friendly: Free from any materials which could cause skin damage. TrueTouch's™ soft tips ensure a gentle massage and grooming without any painful gestures or scratching their skin. 
Well done!!!!!!!! Work great, no more fur flying around the house
Already got the second glove! Very convenient thing! I recommend and the goods and the seller!!!
The product corresponds to the description. Seller recommend.